Whether you are looking for a stage show or close up roaming mix and mingle magic, we have the top magicians in Las Vegas.
Top Las Vegas Magicians are available for hire at any type of event including corporate events, trade shows, weddings, gala dinners, private parties, and more, your guests will be amazed by our top magical entertainment.
Magician Las Vegas can entertain you as a close up roaming magician between courses at your meal, at a networking reception, or during cocktails at your wedding.  Or, if you prefer a spectacular stage show, this can be arranged for your event too.
Performing top illusions, mind reading and sleight of hand magic, Magician Las Vegas will sure to amaze your guests.
Magician For Hire in Las Vegas
Are you looking for a little bit of magic in your life? Well, look no further than Las Vegas – home to some of the World's best Las Vegas Magicians! So whether you're looking for a mind-blowing stage show or a more intimate close-up performance, there's sure to be a magician for hire in Las Vegas who can make your event unforgettable.
Magician Las Vegas: Stage Magician Las Vegas
When it comes to stage magicians in Las Vegas, you can expect the best of the best. From grand illusions to mind-bending sleight of hand, these performers will leave your audience amazed and entertained. Whether looking for a full-scale show or a smaller performance, plenty of talented magicians in Las Vegas can make your event truly magical. Vegas is the best place as it's the hub of international magic, and so if you are looking for a master of stage magic, then you have come to the right town!
If you want to hire a stage magician in Las Vegas for your corporate event, check out Keelan Leyser, originally a British magician who became a Las Vegas resident several years ago. Keelan has taken the Vegas scene by storm with his mind-blowing stage magic and mind-reading show, one of the most modern and impactful shows you will ever see. Keelan's performance is engaging, incredibly funny with his quick wit, innovative, and unforgettable. Keelan has been on not only many American TV shows, like Masters of Illusion on the CW channel, Penn and Teller Fool Us, and Huckabee, but starred in over 100 television shows worldwide. The BBC even made an entire documentary about his incredible life called The Magical World of Keelan Leyser. 
Las Vegas Magician Keelan has performed in almost all of the Las Vegas casinos, including The Bellagio, The Cosmopolitan, The Rio, The Luxor, Mandalay Bay, The Four Seasons, The Venetian, Paris, The Palazzo, and many more.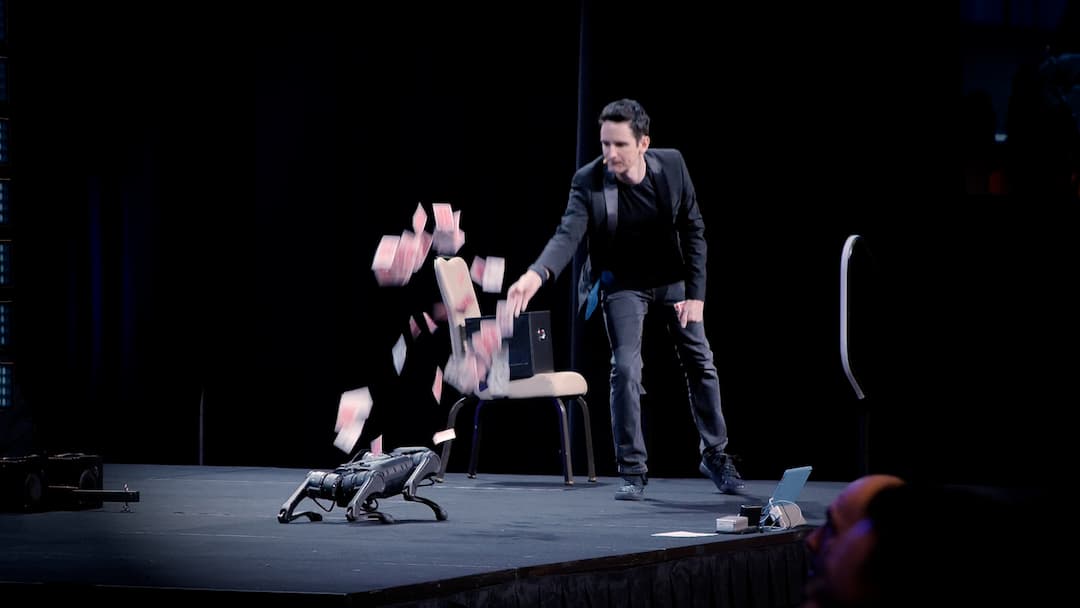 Close-up Magician Las Vegas
If you're looking for something a little more intimate, why not hire a close-up magician in Las Vegas? These performers specialize in smaller-scale magic that can be performed up close and personal, from card tricks to coin manipulation to even iPad magic. These magicians will leave your guests spellbound with their amazing feats of skill. 
Close-up magic is a type of entertainment that uses close-up illusions, sleight of hand, and other feats of magic to captivate and wow audiences. Close-up magicians in Las Vegas typically perform their magic in close proximity to the audience, often walking around the room and performing multiple tricks back-to-back. This type of magic is very different from hiring a magical performer for a large stage show, as described above. A stage show usually involves large-scale illusions or parlor-type magic effects and mind reading.
Close-up magic is more intimate and interactive, as the audience can often see the magician's actions up close and, in detail, under their noses. Many people prefer watching this type of magic as it is so close, enabling the spectators to appreciate the skill involved in creating the sense of wonder that the best magicians strive for. So if you are looking for a more intimate close-up magic performance, contact us, and we can recommend a professional magician who performs amazing iconic magic.
Furthermore, the magician for hire in Las Vegas typically works in a larger area and performs a set of tricks or illusions. For example, a close-up magician often works with a smaller audience and performs multiple tricks as they move around the room.
Magician for Hire in Las Vegas: Strolling Magic
A subset of Close up Magic known as Strolling magic is a type of close-up magic that involves performing with everyday objects from the audience to create jaw-dropping illusions and effects performed in a walkabout and strolling environment like a drinks reception, for example. The Strolling magician in Las Vegas will move around the audience, performing various tricks and illusions, creating a unique and intimate entertainment experience. Strolling magic allows the magician to get up close and personal with the audience, allowing them to perform more personal, smaller-scale tricks.
Take a look at a close-up and strolling magician Las Vegas video above.
Magician Las Vegas: Virtual Magician Las Vegas
Hiring a virtual magician in Las Vegas is a great way to add sparkle and excitement to your online events. Virtual magicians in Las Vegas can bring the same level of entertainment as their live counterparts but with the added benefit of being able to perform from anywhere in the World, virtually over Zoom, MS Teams, Google Meet, and so on. This means that you can have amazing magic performed for your guests or entire family without stressing about the cost and hassle of travel if you intend to have a remote get-together!
The Best Virtual magicians use various digital platforms to create their online magic and illusions, using broadcast-level studio lighting and sound equipment along with Full HD or 4K cameras. They can also use props and other items to help create the illusion that they are actually in the room with your guests and even teach a trick or two, which is great for team-building sessions. 
Magicians are perfect for virtual events where you need to entertain a large group of people who are populated all over the country or the World or if you need to keep your event socially distanced. They are popular for virtual events, such as corporate meetings and conferences, not just in Las Vegas but anywhere! That is the beauty of hiring a Las Vegas Magician online; you can have a real Las Vegas Magician entertain you where you may live in the World!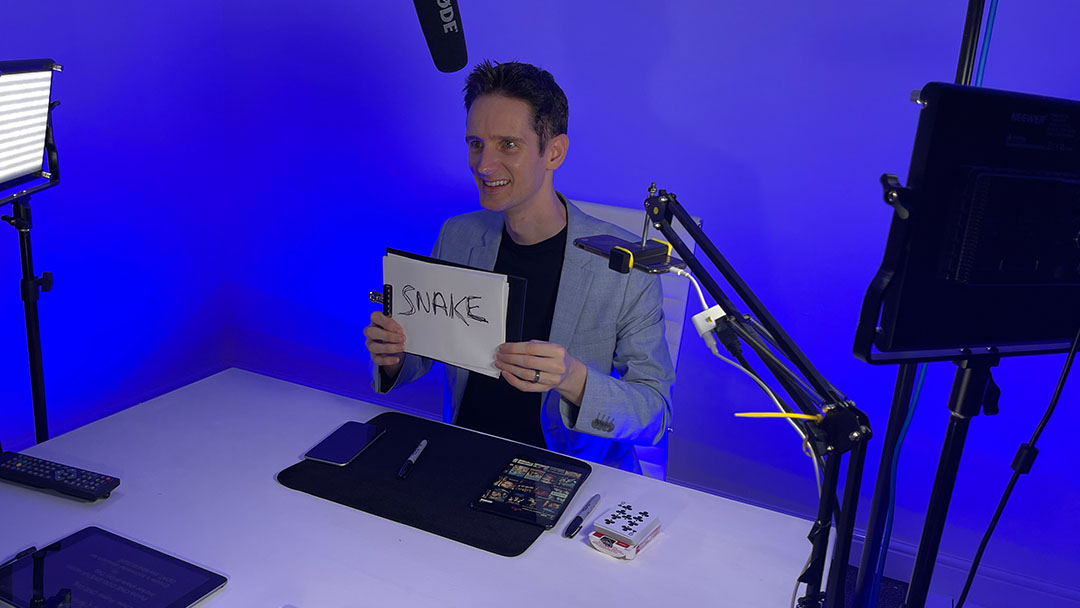 Magician for Hire in Las Vegas: Card Trick Magician and Card Shark
What type of card magic is performed by a magician for hire in Las Vegas? Close-up card magic is one of the most popular types of magic performed by magicians for hire in Las Vegas. Close-up card magic involves performing tricks with playing cards in a close-up environment, usually within arms reach of the audience. The magician may perform sleight-of-hand tricks with the cards, such as card manipulation, fanning, and expert fancy shuffling and cutting, as well as more advanced tricks, such as transpositions and card-location effects. Magicians in Las Vegas can also incorporate other forms of close-up magic, such as coin, rope, and ring tricks, and even tricks with iPads and iPhones, into their performances.
Card Shark Demonstrations in Las Vegas
Many expert card magicians in Las Vegas can also perform a subset of card magic: Card shark demonstrations (or Card Sharp, as some people call it!). These are demonstrations of skill where professional magicians show you how you can always win at cards with some sleight of hand! An excellent form of entertainment, especially if you are having a corporate event in Las Vegas or themed around Las Vegas. 
Magician for Hire in Las Vegas: Mentalism
Mentalism is a form of magic that creates an illusion of mind-reading, telepathy, and other psychic and paranormal abilities. It is often performed in Las Vegas shows. It differs from traditional magic in that it uses the appearance of psychology and suggestion rather than sleight of hand and physical feats. Mentalism often involves the performer using showmanship and apparent psychological techniques to make the audience believe they can perform psychic feats, such as mind-reading and mind control. This is done by utilizing verbal and nonverbal communication, body language, and some magical secret techniques to put the audience into a state of suggestion and create an illusion of mind-reading. Mentalism also involves the performer using showmanship and creative methods to create an atmosphere of mystique and wonder, often involving elements of storytelling, humor, drama, and our favorite comedy to keep it light-hearted. Compared to traditional magic, mentalism is more interactive and engaging, as the audience becomes part of the show and can create a sense of suspense and surprise for the audience.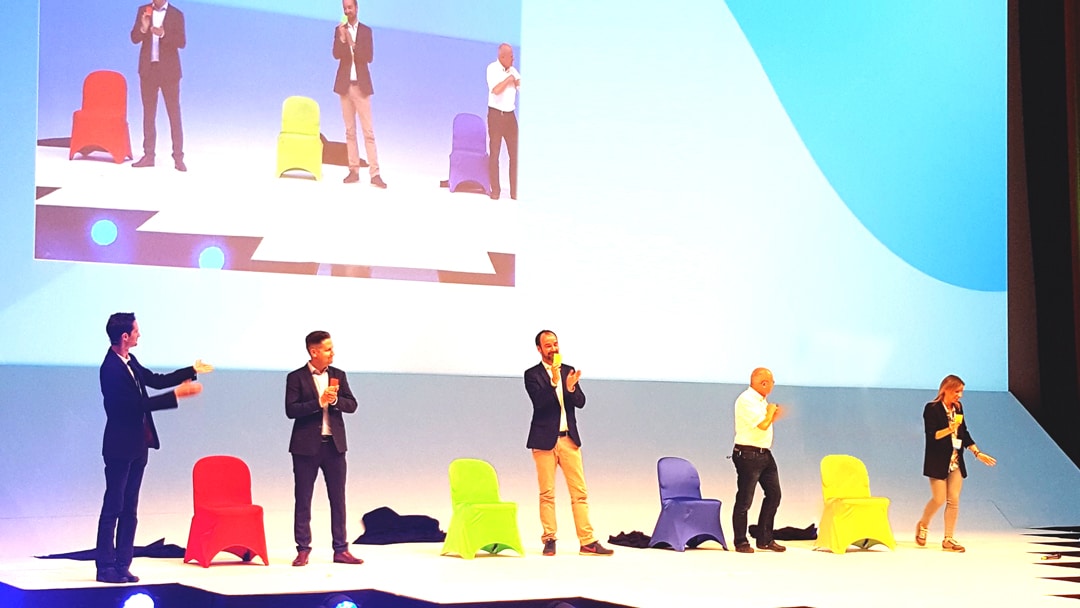 Comedy Magician for Hire in Las Vegas: Comedy Magic
Comedy magicians in Las Vegas specialize in close-up and stand-up comedy magic, suitable for any age group ranging from 5 to 99 years old (and beyond). Comedy Magicians in Las Vegas provide interactive entertainment and a blend of magic and comedy that often involves audience participation, parlor magic style, which usually works better with a smaller audience, and close-up magic. Some Comedy magicians in Las Vegas also offer virtual services, such as virtual corporate entertainment and virtual party entertainment. We can point you in the right direction to provide you with the right mix of magic and comedy to fulfill your requirements. 
There are many other popular types of magicians for hire in Las Vegas; these also include children's party magicians, comedy magicians, corporate magicians, illusionists, strolling/close-up magicians, trade show magicians, and wedding magicians.
Las Vegas Magician: Parlor Magic
Parlor magic is a magician performance style popular among magicians in Las Vegas. This type of magic takes place in an intimate setting such as a private home, lounge, or small theater. It is a more engaging form of magic than large-scale stage productions, as it allows the magician to interact with the audience more closely. This style of magic often features interaction between the magician and the audience, with the magician performing a variety of illusions, tricks, and feats of magic. In addition, parlor magic is often more comedic than large-scale stage productions, as the audience can be engaged with jokes and banter.
Parlor magic is an excellent option for those looking for a unique and engaging experience in Vegas. It's a great way to get up close and personal with the magician and be part of the show. This style of magic is also perfect for small gatherings and parties, as it creates an intimate atmosphere that allows magicians to customize their performance to their audience. This makes it an ideal choice for events looking for something truly unique and memorable.
Magician Las Vegas | Big name Magic shows 
There is no shortage of Big name magic shows in Vegas, whether you are looking for a comedy magic show like Mac King Comedy Magic Show Magic or Piff the Magic Dragon and Mr. Piffles to a Got Talent magician like Mat Franco or Shin Lim. Then there are famous magicians and celebrity magicians with the likes of the Criss Angel Mindfreak show at the Planet Hollywood Casino or master illusionist David Copperfield at MGM or Penn and Teller, the TV magical duo you can be sure this town has something for everyone and all price ranges. On the other hand, suppose you are looking for an affordable, family-friendly afternoon show. In that case, look at Nathan Burton Comedy Magic which has won the award for the best magic show in Las Vegas many times and whose performance is perfect for families. You also might like to see a comedy and magic show by Murray the Magician. However, if Mind Reading and Mentalism are your things, then international Mentalist Frederic da Silva whose afternoon show features mind-reading magic and can be seen at the Magic Attic theater, which is at the Horseshoe casino formally known as Bally's or Banacheck who, is at The Strat and has his own brand of paranormal performance. These are some of the best Las Vegas magic shows available in 2023, but the list is changing, so check back often.
How much does it cost to Hire a Magician for entertainment in Las Vegas?
When considering hiring a magician for an event in Las Vegas, there are a few factors to consider in terms of price and package options. Average prices for magicians in the Las Vegas area vary and can range from $800 – $1,200 per hour for a basic package to higher prices depending on the credentials of the magician, the demand, and the time of year. During busy conferences, you find that magicians are very popular for trade shows and exhibitions, as Las Vegas is the trade show capital of the World. In addition, big conferences like CES and the World of Concrete are held in Vegas every year and are a popular time for magicians to be hired for corporate events throughout the town.
When looking for an exciting magician in Las Vegas, it's essential to research the magician's background and references for verified bookings and customer reviews, ensuring they have performed dozens of magic shows. Overall, the price and package considerations for hiring a magician in Las Vegas depend on the type of event and the magician's specialized areas of expertise. Therefore, researching and reading reviews is essential in finding a reliable and entertaining magician for an event in Las Vegas. Still, if you want to skip that hassle, that is where we come in, as we work with a host of reliable magicians throughout Las Vegas, Henderson, and all over Nevada. But, of course, we only work with reliable and amazing magicians who will deliver incredible magic!
What's the difference between a magician and Illusionist in Las Vegas?
The main difference between a magician for hire in Las Vegas and an illusionist is the types of performances they put on. Magicians focus on performing close-up or roaming mix-and-mingle magic, which involves sleight-of-hand tricks and simple illusions. They often perform at weddings, galas, and private parties. Illusionists, on the other hand, create larger and more elaborate illusions that require a stage to be displayed. They perform their illusions in a cabaret, theater, or similar venue. In addition, illusionists often include acts of large-scale magic tricks called illusions and quick-change and mind-reading in their routines. In Las Vegas, some of the most popular magicians include Keelan Leyser, who specializes in corporate stage magician and mentalism shows, as well as close-up roaming magic and cabaret performances. Famous illusionists, including David Copperfield, Criss Angel, and Penn & Teller, offer grand illusions and stage productions with elaborate sets and special effects; their shows have residencies in the Las Vegas casinos.
Who is the most famous magician in Las Vegas?
The most famous and successful magician in Las Vegas is David Copperfield, followed by David Blaine, who recently stepped into the Las Vegas arena. They both have the largest and most popular Vegas Magic Shows in 2023.
Who are the best magicians in Las Vegas in 2023?
David Copperfield
David Copperfield is one of the most famous magicians in the World. He has been performing for over 40 years and has been seen by millions of people around the globe. He is known for his grand illusions, such as making the Statue of Liberty disappear, walking through the Great Wall of China, and levitating over the Grand Canyon. In addition to his stage performances, David Copper field has starred in several television specials, including "The Magic of David Copperfield" and "David Copperfield: 15 Years of Magic." He performs at the MGM Grand Hotel & Casino in Las Vegas.
David Blaine
David Blaine recently started his residency at the new Resorts World Casino in Las Vegas with his death-defying stunts and iconic magic. Blaine is a one-of-a-kind Vegas entertainer who can't be rivaled with the level of skill and uniqueness that has gone into his show.
Blaine is known for his death-defying stunts, such as his iconic "Buried Alive" stunt in 1999. He has also performed many other high-profile stunts, such as a 44-day endurance act of living inside a transparent box suspended over the River Thames and a 56-hour straitjacket escape performance while hanging upside down from a crane. He has an incredible one-of-a-kind show that should not be missed.
Criss Angel Mindfreak
Criss Angel Mindfreak is a well-known resident magic show in Las Vegas. He has been performing his unique brand of magic for over 20 years. His performance is currently resident at the Planet Hollywood casino. Unfortunately, the casino is run down compared to the new resort David Blaine is in. Unfortunately, there were news reports that the casino itself was recently flooded during an unusual downpour in 2022. Criss Angel's show combines some incredible illusions with very loud music and a lot of screaming, so if you like that kind of thing, then this show is for you. He has been featured on numerous television specials, including "Criss Angel Believe" and "Criss Angel Mindfreak Live."
Mat Franco
Mat Franco is a magician who rose to fame after winning the ninth season of America's Got Talent in 2014. Since then, he has been performing his unique brand of magic at the LINQ Hotel & Casino in Las Vegas. Mat Franco's show is a mix of close-up magic, grand illusions, and interactive audience participation. In addition, he has been featured on several television specials, including "Mat Franco: Magic Reinvented Nightly" and "Mat Franco's Got Magic."
Penn and Teller
Penn and Teller are a world-renowned magic duo who have been performing together since the late 1970s. They are best known for their unique blend of comedy and magic, earning them numerous awards and accolades throughout their career. Penn Jillette and Raymond Teller have been performing in Las Vegas since 1993, where they currently headline at the Rio All-Suite Hotel & Casino.
Their show is a mix of comedy, magic, and audience participation. They have been featured on several television specials, including "Penn & Teller: Fool Us" and "Penn & Teller: Bullshit!"
Nathan Burton Comedy Magic
Nathan Burton Comedy Magic is a family-friendly show on the strip. He has been performing on the Las Vegas strip for decades and has become one of the area's most popular family magic shows. Nathan Burton's show combines comedy, music, and magic to create an unforgettable experience for audiences of all ages. His show features a variety of illusions, including levitation, vanishing acts, and more. He
Mac King Comedy Magic Show
The Mac King Comedy Magic Show is one of the most popular magic shows in Las Vegas. It has been running for over 20 years and is a must-see for anyone visiting the city. The show features an array of fantastic illusions, hilarious comedy, and audience participation. Mac King is a master magician who has been performing since he was a kid. 
Piff the Magic Dragon and Mr. Piffles
Piff the Magic Dragon and Mr. Piffles are a dynamic duo that has entertained audiences in Las Vegas for years. Piff is a master magician who has been performing his unique brand of comedy magic since 2006. His sidekick, Mr. Piffles, is an adorable Chihuahua dressed in a dragon outfit, often assisting with the tricks. Together they have performed on America's Got Talent and featured in numerous television specials.
Shin Lim
Shin Lim is a world-renowned magician and illusionist from Las Vegas, Nevada. He is best known for his close-up magic performances, which have earned him numerous awards and accolades. In addition, Shin has been featured on television shows such as Penn & Teller: Fool Us, America's Got Talent and Ellen.