Virtual Magician – Interactive Online Magic Show via ZOOM – Corporate Zoom Magician and Best Virtual Magician
In this current climate, you never know whether you will have to cancel all your fantastic in-person events last minute, so Virtual Events and Online Experiences have become extremely popular. We have been offering virtual entertainment and virtual experiences for corporate events, including Virtual magic, sand art, caricatures, shadow shows, live music, and more.
We are proud to offer an Interactive Virtual Magic show direct to your home via Zoom, MS Teams, Google Meet, WebEx, or any other platform like Hopin or Remo you are using to communicate with your virtual audience. For example, you might host a virtual event for your colleagues, delegates, family, and friends. A Virtual Magic Show is the perfect choice for an Online Corporate Event, Virtual Conference, or Virtual Birthday Party; it works for all kinds of virtual events. The Virtual Magician will perform the Interactive Digital Magic on you and your guests; with a mix of mind reading and digital magic, your guests will have their minds blown!
Corporate clients, private parties, and even individuals worldwide have already been taking advantage of this style of entertainment direct to your home. There is no need to break any government rules by leaving your house, no need to mask up or even change out of your pyjamas! The Digital Magic performance is not like watching a video on YouTube or watching a Netflix Magic special; the virtual audience interacts with the magician, and tricks are performed on you and your guests, you are totally involved, and it can even be customized to fit your company branding and event theme. Get in touch today to find out more about our Virtual Entertainment packages and Virtual Experiences.
Below you can see a couple of videos of our Virtual Magician talking about his online virtual magic show at the very start of this challenging time.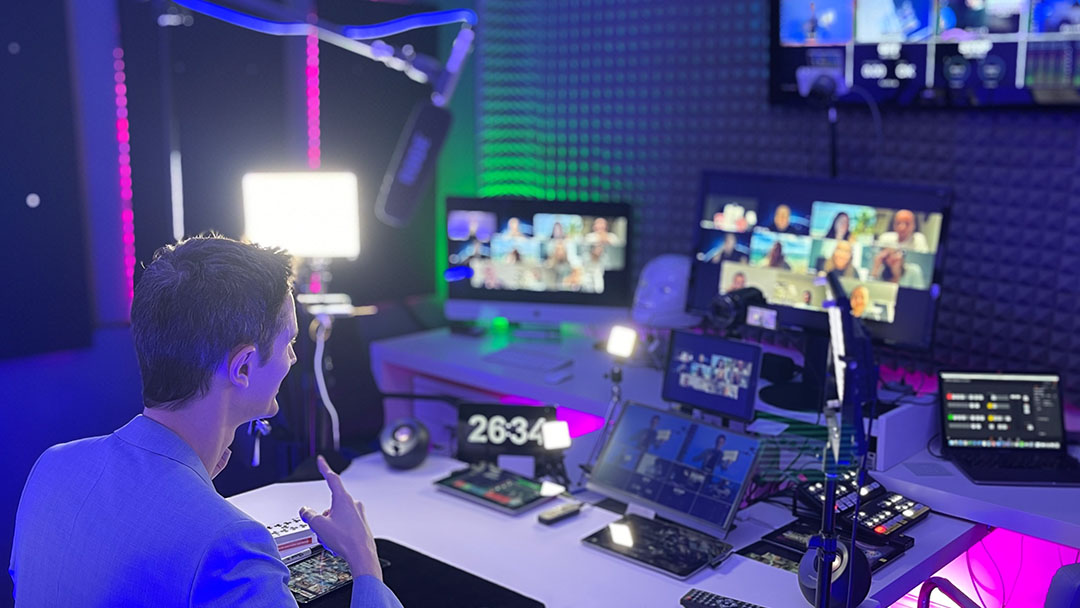 Virtual Magician for Hire
If you are looking for a unique and memorable entertainment experience then hire an experienced Virtual Magician! These modern day wizards will amaze and delight your guests with their amazing illusions, interactive tricks and hilarious and engaging comedy. The virtual magician will bring the best of traditional magic to your computer screen but with a modern feel. Whether you want to entertain thousands at virtual conference or just a small team building event, these magicians have something for everyone. From classic card tricks to incredible sleight of hand, they will leave you spellbound. With their personalized performance tailored just for you. Their virtual magic show is sure to be an unforgettable experience that your guests won't soon forget!
Reasons to Hire a Virtual Magician or Mentalist for your Online Virtual Event
We have been delivering and organizing amazing shows for several years that have yielded remarkable success. Our shows are like well-oiled machines that keep clients coming back repeatedly. The audience's high level of engagement and amazement is because they can see and hear the magician live and interact with them, just like they would during an in-person show.
Our services cater to individuals and businesses, regardless of whether they want to organize a small virtual birthday party or a large scale online corporate event. We have worked with lot's of different types of companies, from small local businesses to multinational corporations such as Google, Intel, Lowes, and Deloitte.
Transform your Zoom Meetings with an Interactive Experience and Engaging Experience no matter the Time of Day!
As the world shifts to a more online world, virtual entertainment becomes all the more significant. It is now possible to hire a Virtual Magician or Mentalist to put on an interactive show for any Zoom meeting or event – no matter the time of day!
A Virtual Magician or Mentalist can provide an exciting and interactive experience that will keep your participants engaged throughout the entire show.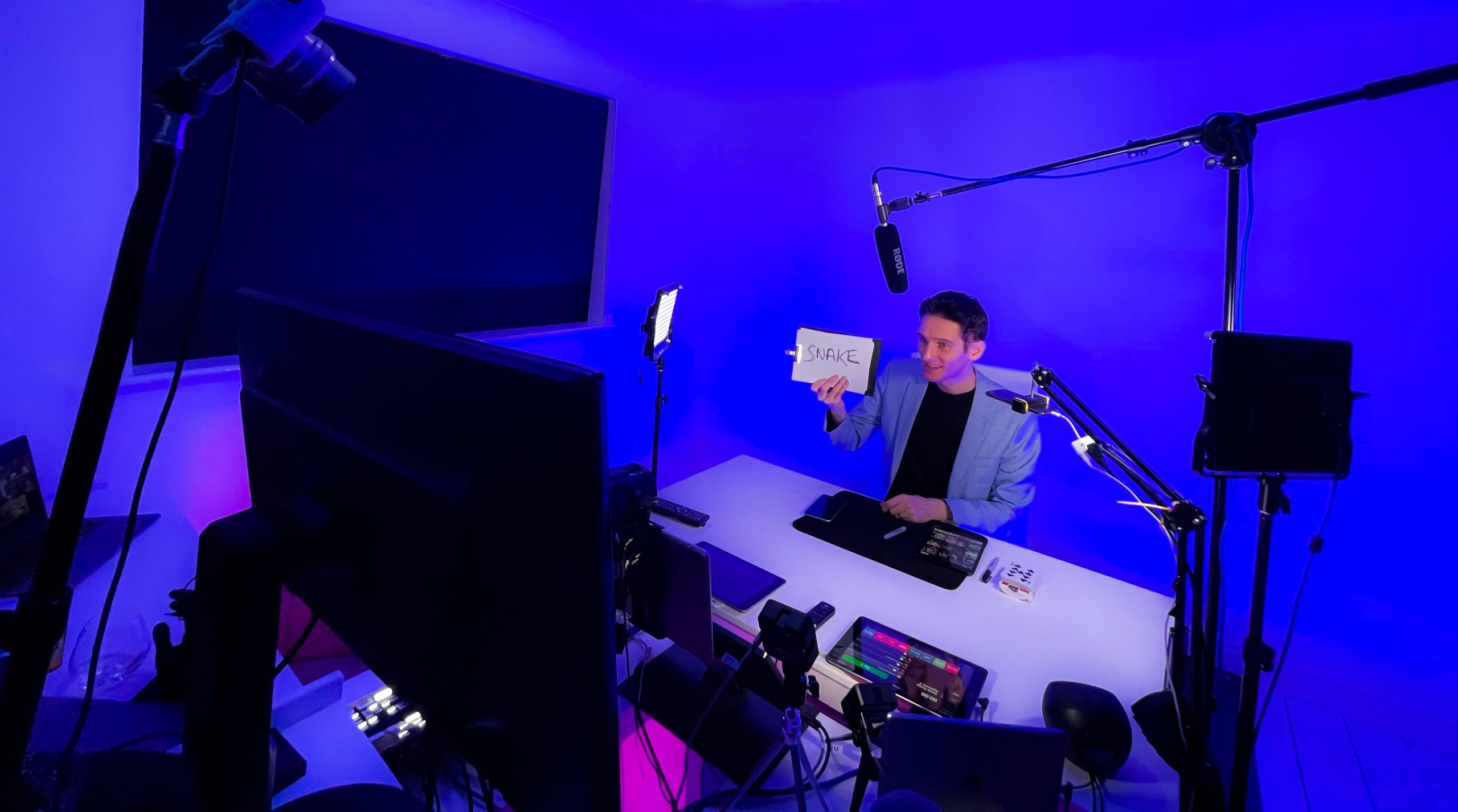 What is a zoom magician?
A Zoom Magician is a magician or mentalist that performs an interactive 'virtual' magic show using the telecommunications software known as Zoom. Sometimes these virtual magicians use other software like Webex, Microsoft Teams, and Google Meet. Zoom Magicians aren't just limited to using Zoom software but Zoom seems to be the most popular due to its advanced show capabilities. For Virtual Events, Zoom is well ahead of its competition for this kind of performance in corporate events and virtual birthday parties.
What is an Online Magician?
A virtual Online Magician has the same meaning as a Virtual Magician or Zoom Magician; it is a term that has been popularised since the pandemic by magicians and mentalists that perform a magic show via video chat meeting platforms like Zoom, MS Teams, and Google Meet.
What is the difference between a Virtual Magician and Virtual Mentalist?
The main difference between a virtual magician and a virtual mentalist is the type of routines they perform, for example, a Virtual Magician performs traditional magic tricks such as card tricks, coin tricks, sleight of hand, and more. On the other hand, a Virtual Mentalist typically performs mind-reading effects that involve predicting the audience's thoughts or decisions. Both of these performances can be interactive and engaging online and many magicians perform both magic and mind-reading in their shows not just one or the other.
How much does an online zoom magic show cost?
A Zoom Magician or an online Virtual Magician can cost between £200 to £3000 in the UK and $220 to $3300 in the USA, depending on how long you want the performance and whether you want an off-the-shelf interactive online show or if you want the routines and tricks tailor-made to your event or brand.
How long does a zoom or virtual magician perform their online magic show?
Depending on the requirements, a Zoom Magician or a Virtual Magician typically performs their Zoom magic show for 15 minutes to 45 minutes.
What equipment do I need to set up a virtual meeting to host a virtual zoom online magic show?
To set up a virtual event, you need some telecommunication software like Zoom, Webex, Microsoft Teams, and Google Meet (formerly Google Hangouts). Zoom is by far the preferred choice. Zoom has become very popular during the period of social distancing and can host up to 500 people at any one time and up to 1000 for a small additional fee. Zoom is the most popular choice for hosting an online magic show.
Who performs the Virtual Zoom Magic and Mentalism Show?
The Virtual Magician, Keelan, is the perfect host and solution for anyone planning a virtual conference, party, or event. The facilities and team he has at his disposal to host your virtual event ensure a smooth ride and guarantees that your attendees leave feeling entertained and amazed. Our Virtual Magician ensures that everything runs smoothly and your guests enjoy themselves by providing a first-rate service. If you need to host a virtual event, Keelan and his team make organizing a virtual corporate event or private event enjoyable and straightforward. He provides an excellent service that is flexible and reliable.
Who is the online magic show suitable for?
The Virtual Magician is suitable for anyone hosting an online event and can enhance engagement, and interaction and positively impact the attendees—ideal for online trade shows, virtual networking receptions, and virtual award ceremonies.
How can I contact a Virtual Magician?
We can set up a mutual date and time if you contact our Virtual Magician.
Who would benefit from an online magic show?
An event of this type is perfect for any occasion where people want fun and still feel a part of something special, even if you can't all meet up in person.
Is the Virtual Magic Show 100% family-friendly and suitable for Corporate Events?
Yes, the Virtual Magician and Mentalist produce a clean, fun show that is suitable for everyone at all levels. There is no bad language, just amazing magic and 100% family-friendly humor along the way! Our Virtual Magician has a wonderful sense of Humor, and funny banter, which is perfect to remove the awkward silences you get with online events and meetings.
What experience does the Virtual Magician or Virtual Mentalist have?
The Virtual Magician Keelan has won major awards for his magic and mentalism shows, including winning the title of British Magic Champion at the World's largest magic convention and also a Magic Circle member.  He has been on over 100 television shows; most recently, you may have seen him twice on Penn & Teller Fool Us Tv program, where his clip on YouTube has gained over 15 million views. 
What kind of events are best suited to a virtual magic or mentalism show?
Virtual Magic Shows or Virtual Mentalism Shows are suitable for Morning Meetings, Team Meetings, Online Networking Events, Team Building sessions, virtual private parties, virtual happy hours, and online conferences. Virtual magic shows have lots of audience interactions with tricks that the entire audience can take part in no matter where they are in the world.
How does a Virtual Magic show create the special experience that an in person magic show can?
Audience volunteers can be pre-selected or chosen randomly to participate in the incredible illusions and psychological illusions when the virtual mentalism show is performed. Either way, you can be guaranteed that an incredible experience will be had by all.
Can an Interactive Virtual Magic Show really be fun?
Yes, it sure can! With the help of this new virtual technology, magicians can now create a unique and immersive experience that makes the audience feel they are part of the show. Using video conferencing platforms, like Zoom or Google Meet, magicians are able to interact with their audiences in real-time just like they are there in person. The audience can even participate by suggesting ideas or sending props to the magician to use in their show.
What's the difference between an Online Magician and a Zoom Magician?
The main difference between an online magician and a Zoom magician is the platform they use to perform their magic. An online magician typically uses websites such as Zoom, MS Teams, Google Meet, Webex, Remo, etc, for their performances, while a Zoom magician opts for the video conferencing platform of the same name.  Zoom gives the magician or mentalist more flexibility for a more engaging experience due to its advanced features. The audience can view the performance more closely and interact with the magician directly since they are all on one screen. Additionally, Zoom magicians can also customize their shows for their audience by adding things like branded screens and picture-in-picture effects. 
Is a Corporate Zoom Magician right for my online event?
Having a corporate Zoom magician for your online event is a great way to entertain and engage your guests. They can incorporate interactive elements such as mind reading, card tricks, or even virtual illusions that will captivate your audience. Additionally, many magicians offer custom packages tailored to the theme of your event. So whether you're hosting a corporate party, team building activity, or other special occasions, having a professional Zoom magician could be just the thing to make it extra special.
Who is the Best Virtual Magician?
Keelan Leyser is the best virtual magician in the world. His impressive skills have earned him recognition and awards from numerous organizations, as well as an appearance on Britain's Got Talent. He also has his own YouTube channel where he shares tutorials on performing amazing tricks and illusions. His unique style of mixing comedy into his performances makes him a truly outstanding virtual magician that sets him apart from all others. Whether you want to learn some simple tricks or witness the most incredible illusions, Keelan Leyser is the perfect virtual magician for your needs!
Do we need to provide the Zoom link for the zoom call, or does the magician provide it?
Either is possible. If you a private meeting that you need to have before the show then some clients like to use their Zoom account, if you are just joining for the show then feel free to use the magicians. Many of our top Virtual Magicians have enterprise Zoom accounts which means they get full 1080p streaming where most people only get 720p streaming with the pro or business account. 
What Virtual platforms does the virtual magician or virtual mentalist use?
The virtual magician or virtual mentalist uses a variety of virtual platforms to entertain their audience.  With Zoom, the performer can easily engage with their audience by hosting interactive shows such as magic tricks, mentalism acts, comedy routines, and more. Other virtual platforms that are commonly used by virtual magicians and mentalists include Skype, Google Meet, Webex, Remo, and GoToMeeting. These other services can be used, but Zoom allows for greater flexibility in terms of performance options and interactive features for a truly immersive experience for viewers. It is also possible for performers to use multiple platforms simultaneously for example, stream the Zoom show directly to a private Youtube link, in order to reach larger audiences of over 1000 delegates. Ultimately, the platform chosen will depend on the performer's preference and the unique needs of their show, but Zoom is normally the number one choice, 
Are your Virtual Magicians members of the Magic Circle or Magic Castle?
Yes we have a variety of award winning Virtual Magicians and Mentalists and most of them are members of either the Magic Circle from the UK or the Magic Castle in the USA. 
Do you only provide live virtual entertainment, or can it be pre-recorded?
Yes the virtual show can be pre-recorded if you are organising a large virtual seminar where you don't want to rely on the internet connection on the day. For events like these some clients like to pre-record a Zoom magic performance with a select amount of people like 15 – 30 people and then that show is professionally edited up and streamed at a later date. A contract is given to say that the virtual magic show can only be streamed during that event and not uploaded onto social media after the event, it is streamed as a one off event just like you would if the show had been live. 
How do you book a Virtual Magician?
Booking or Hiring a Virtual Magician is very simple. Simply provide us with the date and time of your event, the expected number of guests, as well as some details about the event's primary purpose and objectives. Once we receive this information, we will quickly respond with availability and the associated costs.
Can the Virtual Magician teach a magic trick online?
Sure, if you are looking for more of a virtual team building session for your next corporate virtual event then the virtual magician will be happy to teach you all a trick or two. Just let is know what your requirements are, the magician normally asks everyone to bring along a pack of cards and some elastic bands and everyone can follow along to learn a trick they can then show their friends and family!
Do you provide any other kind of Virtual entertainment besides the virtual magic experience?
6 benefits of hiring a Professional Virtual Magic Show for your Corporate Event or Online Meeting are:
• Create a wholly interactive and fantastic experience for your audience.
• High-definition video streaming
• Broadcast-Quality Studio
• Multi-camera setup
• Professional
• High quality
• Interactive Show
Using Keelan, the 'virtual zoom magician', to host your virtual event, you will be able to take advantage of his experience and expertise. Keelan will provide you with an entirely professional service. You will be able to participate in the show just like you would if the virtual entertainer was there in person. Virtual Magician Keelan has been providing virtual performances now for a few years, with over 1000 shows for Corporate and Private clients worldwide.  You can participate in the show just like you would if the virtual entertainer was there in person. Whether you are looking for interactive magic, close-up magic, or parlor magic, all of these genres of magic can be experienced like it would if you had front-row seat in a real theatre. So if you are looking for some virtual event entertainment, we can provide your company event with some Incredible Magic and Mentalism.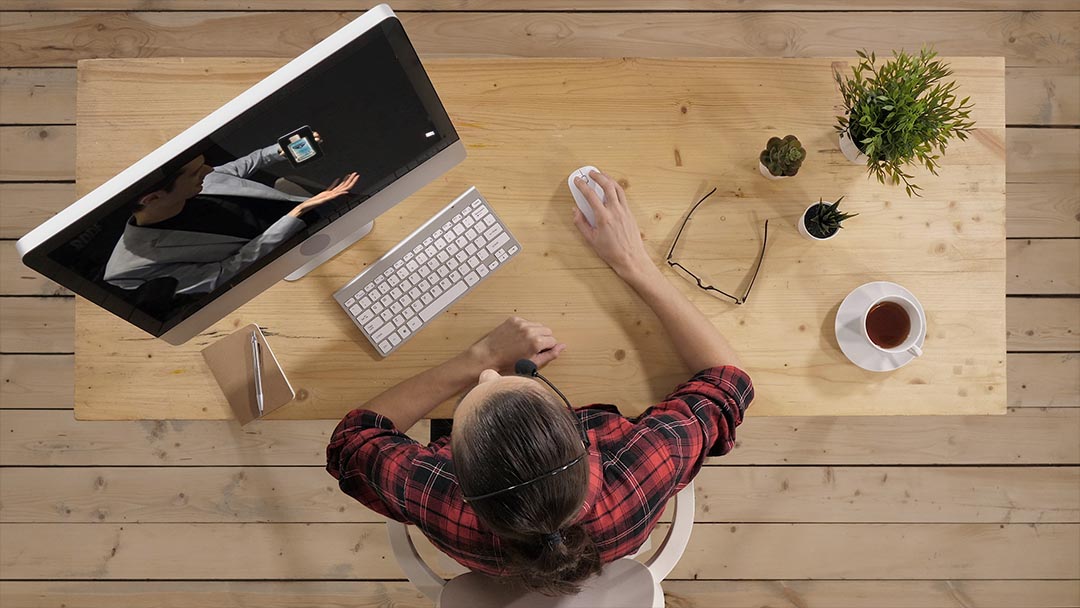 Virtual Magic Show Reviews
Our Zoom Magician has performed over 400 Virtual Shows for our clients, and the feedback has been outstanding; here are just a few emails we received back.
Just had our team virtual event and I have to say Keelan was FANTASTIC!!!!! Mind blowing! Everyone on the team truly enjoyed themselves and gave a big thumbs up to the whole experience.

Thank you for all your assistance and please tell Keelan THANK YOU. Awesome performance and truly talented.

Have a great holiday season and I will definitely pass on the info to our other teams within PayPal.

Cheers,

Cindy J
Enterprise Cyber Security
PayPal
I would like to thank you again for the whole CI team.  I got only great feedback regarding the magic show for our Tuesday and Wednesday event last week.  Everybody loved your show, Keelan!  It was very engaging and fun… and magical…. a cherry on a cake for our virtual corporate event. 

Thank you again, it was truly lovely working with you both and we hope to work with you in the future again!  😊

Best,

Simona B
Portfolio Development – Events
Cisco
Fantastic job! That was SO MUCH FUN!

Thank you so much for such a great experience! We might have to do this again with another audience!

Cindy
Intel
Audience Participation in the Virtual Magic Show for Corporate Events and Private Parties
This kind of Virtual Entertainer can provide additional benefits like;
–The show will include a wide range of audience participation.
– They Can Help You Create an Online Presence that's Interactive, Engaging, and Effective
– They Can Help you Promote Your Event Online and Bring People Back for More
– They Can Help Build Relationships with Customers and Prospects, enhance your image and brand message, increase the overall atmosphere of your event, and, of course, be a source of entertainment for your guests.
Why get excited by this kind of virtual experience and online performance?
Online events can lack engagement, especially if they are streamed online or broadcast on a telecommunication platform in a webinar format; that's where the virtual magician comes in. Magicians and mentalists are great for engaging audiences at online networking drinks receptions, virtual award ceremonies, or virtual trade shows. The virtual magicians perform magic tricks that interact with your guests, making them a vital part of the performance and keeping their attention longer than any speaker or presenter could. Additionally, virtual magicians create excitement and anticipation, which is excellent for online events; this allows you to give your event a more "live" atmosphere, so more people will want to attend. Finally, the ability to engage and entertain provides an excellent opportunity for you and your guests!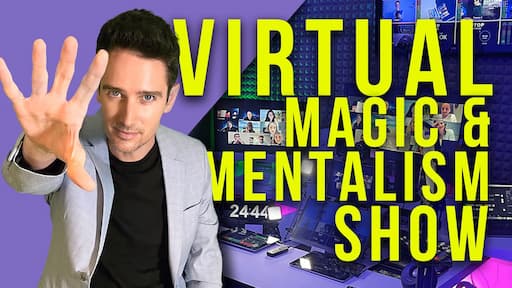 Even more fascinating is the impact that a Virtual Magician's live-streamed performance can have in changing the way your online event is perceived, in addition to the positive impact it has on engagement, perception, and essential elements like brand image. As a result, the Virtual Magician will prove an invaluable asset when planning your online event.
Enquire about an Online Zoom Magician