Technology Entertainment at Corporate Events
Digital and Social Media are the buzz words of this decade and there are many conferences and exhibitions around the world concentrating on exploring the benefits of these two areas.  Let me explore some of the artists that we believe have the most exciting tech related themes. Our Light Artist is an incredible artist who combines technology with emotional storytelling.  The Light Artist is an incredible addition to any event where you would like a bespoke story.  The Light Art is drawn on the vast luminescent area by ray of light.  It's a live performance, from simple drawings to realistic portraits in front of the audience. The most popular is bespoke show the light artist can do will be created according to a Client´s theme or task.  Excellent choice for all Technology Themed Events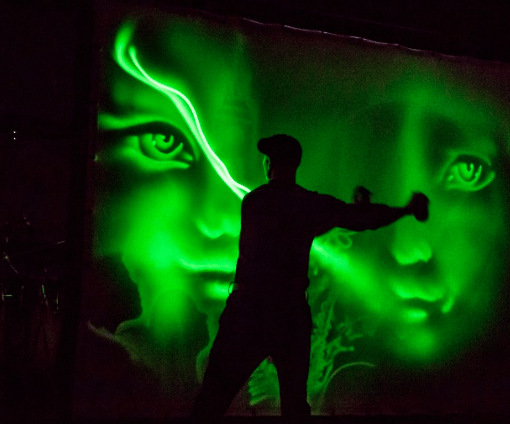 LED Parkour Act
This LED Parkour performers aren't just good athletes but are a spectacular light show all rolled into one!  These guy and girls are super professional and provide an incredible fusion of light and free-running strength and skills.  The world's leading LED Parkour Performers, free running and professional acrobatic movement performance athletes, they set themselves apart from others by wearing high-tech LED costumes. With exponential experience covering all forms of media from lead Photographic campaigns, Live event performances and lead Commercial roles right through to Hollywood Blockbuster movie stunt doubling such as James Bond Casino Royal.
The Pyramid
The Pyramid is a fantastic technology stage show with it's head-high pyramid melding with laser highlights and acrobatically power action, offers new possibilities for product-related representations for technology events, shows & TV! Brands, logos and products can be presented by light and laser projection as well as removable stickers on the show element – the pyramid – performed and costumer-focused integrated.  Set your product or brand in the focus of the next event, together with an stunning and unprecedented acrobatic show!
The Lighting Cube
The new performance The Lighting Cube Show presents a new era of acts on the basis of different parts – music & light effects, moving silhouettes, projection and modern juggling art – in combination!  The Lighting Cube is a perfect addition to any Technology Themed Event with mystical creations designed by forms in the elastic inner part of the cube shows a timeless performance, accented by the unique outfit with his LED lights.
Multimedia Dancers
Our Multimedia Dancers specialise in the creation of technology shows for the corporate world.  They create a unique performance for every client, based around their theme, staging and projection requirements. This can range from completely redeveloped costumes, graphics, choreography and music, to a simple logo or slogan insertion to an existing show.