HIRE DIGITAL CARICATURISTS AND IPAD MAGICIANS
Digital caricaturists and iPad Magicians are available to share your bespoke story in a way that expresses and identifies who you really are and what you stand for. Envision personable digital caricaturists mingling with potential clients on the floor of a trade show, sharing their unique talent and leaving a positive impression. Or be astounded when the iPad Magician entrances your guests at a gala event with a bespoke magic show, leading up to the finale in his specialized logo reveal entertainment.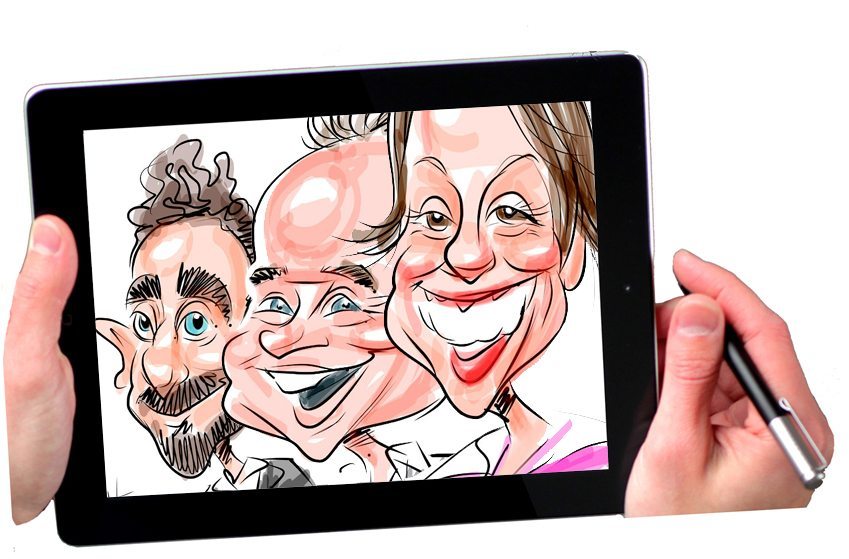 Whether you hire a digital caricaturist to create art worthy of hanging on your wall, or if you book a digital magician to pull more than a rabbit from an iPad, brand reveal entertainment is hot and is absolutely guaranteed to leave a lasting impression and give people something to chat about for years to come.
[new_royalslider id="15″]
How important is it to 'one up' something or someone when it comes to new and innovative ways of expressing your identity? Well if it's something you'd wish you could easily and successfully pull off, now you can! Hire a digital magician to wow the crowd at your next public or private corporate brand reveal event.
[row]
[col span="1/1″]
[/col]
[/row]
[ux_custom_products title="Check out our AMAZING DIGITAL ARTISTS below! " products="4″ columns="2″ cat="digital-magicians" show="all" orderby="rand" order="desc" type="normal"]
[row]
[col span="1/1″]
[/col]
[/row]