At the Corporate Entertainment Agency we have the highest quality of beautiful Burlesque performers to hire for your private party or corporate event.  Burlesque artists can tailor their routine specially for your event, so if you would rather the PG version please ask and the artists will just perform down to underwear. If it's a more adult event then the girls can strip down to nipple tassels, please tell our account managers which you would prefer so we can quote accurately.
One of our most in demand artists; Burlesque Ruby, she will lure your guests into another world altogether, the underground world of burlesque and cabaret has once again risen up and taken the world's stages by storm. Combining an intoxicating concoction of vintage glamour, wicked humour, glittering costumes and bold sassiness in her breath-taking performances.
We have the amazing Dita Von Teese tribute artist to hire, the artist's attention to detail is outstanding and her iconic costumes are second to none, with a striking resemblance to Dita, her shows are truly authentic. She has performed across the globe for brands such as Moet, Range Rover and Activison. In high demand, she has performed her show in exotic locations for Royalty and VIPs.  She performs two classic shows Diamonds in the buff and Pretty in Pink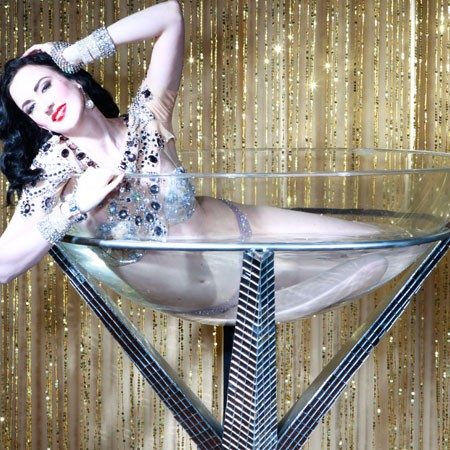 We also have burlesque style performers who perform tongue in cheek Burlesque style routines with their giant feather fans, corsets and Basques but do not perform strip tease.  Routines include numbers such as Diamonds are a girls best friend and Show me how to Burlesque from the movie Burlesque.
Bringing a slice of vintage glitz and glamour to all events – The Burlesque Girls will not disappoint in delivering a truly memorable experience!  Our group of Burlesque performers have the perfect blend of charm, style and sophistication, delighting audiences with their slick performances.  Perfect for all corporate and private events, The Burlesque Girls will truly captivate all audiences with their dazzling glamour and captivating routines.
At Corporate Entertainment Agency we have Cabaret Burlesque shows which gives you more than a short segment, more suitable for a sit down dinner entertainment.  A fantastic addition to your event or cruise ship entertainment with various numbers fitting the Las Vegas, Paris or 1920s theme.
[row]
[col span="1/1″]