HIRE TALENTED SAND ARTISTS FOR WEDDING CELEBRATIONS
Our wonderful Sand Artist Eva recently completed a sand story for a couple that will be getting married this September in the UK.  The sand story is of how they met, fell in love and finally of the proposal, this was booked by the bride to surprise her groom on their wedding day.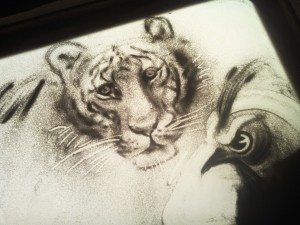 To begin the process of booking a sand story the bride sent us a timeline of their love story and favourite images, the sand artist then sent us various storyboards for the bride's approval. The sand story was filmed from the sand artist's studio and it was sent to us to forward to the bride, doing it this way saves on production costs, transport or creation of the specialist sand light box, travel expenses, hotels and travel day costs of the sand artist.  This is a great addition to any event where the planner wishes to tell a story in a unique and beautiful way but has a smaller budget, space issues or lacking technical support.  The sand story can be projected at the event for the guests to be amazed. Our sand stories have even been used as wedding proposals, this unique idea really does leave a lasting impression.
[new_royalslider id="7″]
If you wish to create your own sand story, be it live or filmed like the above, get in touch with the Corporate Entertainment Account Managers to find out more about our very talented sand artists.
Check out our AMAZING SAND ARTISTS below!