HIRE A PUPPET SHOW
Remember the joy you had as a child whenever someone stuck their hand in a sock and made it talk?  Well, we've come a long ways from your grandpappy's sock puppets!  Today's traditional entertainment is just as exciting as modern entertainment, with its carefully detailed costumes and simple yet complex props. But the true magic behind puppet show entertainment lies in the magically gifted puppeteers.  With combined decades of experience, our puppet performers perfect the act of mingling with the crowd, in any event, large or small, private or public, and are available worldwide to spread good vibes and big grins. Our puppet shows for hire can entertain audiences with custom performances, acting out a bespoke story to impress clients and CEO. Or enjoy a riveting holiday performance with big laughs, colorful costumes and celebrity impersonations.
Watch as caricatures of Elvis, Dolly, Madonna, Whitney and Pavarotti enact jokes, songs and acts from their illustrious careers. Puppets Australia is one of the most sought after variety performers, and with a troupe of characters like that it's no wonder he's been awarded 'Australia's Specialty Act Of The Year' not once, but twice!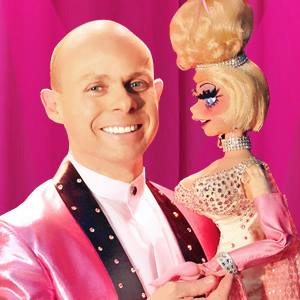 If you're searching for the perfect way to liven up a crowd at a trade show or any outdoor event, book puppet show entertainers to walk about the venue.  By interacting with people one-on-one, the sense of personal entertainment is felt.  Talking and playing with children and adults of all ages invokes positive energy and warm feelings.  Street Entertainment is one of our popular puppet performances.  With several unique characters such as Lord of The Bins with Gandalf Garbage and Frodo Bin-Baggins, Viva Las Wedding and its Elvis Parsley twins, Or the Umpires Strikes Back featuring a pair of England's most notorious umpires and their crazy cricket conversations.
For a more magical experience invite the Winter Sprites to flit, flutter and fly among your guests at your holiday celebration.  Watch as this brilliant pair of puppeteers uses traditional methods to invoke a genuine interaction with the crowd. Children especially adore this duo with their icy looks and warm personality's.
It doesn't matter which one of our charismatic puppet performers you chose to grace your special venue, what does matter is how these amazing puppeteers bring so much joy to your special event.
[row]
[col span="1/1″]
[/col]
[/row]
[ux_custom_products title="Check out our AMAZING STAGE ENTERTAINERS below! " products="24″ columns="3″ cat="cabaret-and-stage-shows1″ show="all" orderby="rand" order="desc" type="normal"]
[row]
[col span="1/1″]