HIRE 1920s Dancers
Nothing will scream of glamour and fun more than our magnificent group of 1920s themed professional dancers.  No matter the venue or the occasion, your event is guaranteed to be a complete success with our dancers swinging away in a most memorable display.  It is common knowledge that the 1920s were the birthplace of many dances and even more new dance moves, enthusiastic and open-minded women and men alike making the floors tremble with fast movements and breathtaking rhythms.  Keeping the memory of some of the most popular '20s dances alive, from Charleston, black bottom, swing, Lindy hop to flapper or tap and more, our dancers are always ready to perform and make your special event unforgettable.  Either or both female and male dancers can be hired as duos or solo dancers and whether you're looking for a big dance group or an intimate smaller one, we can accommodate your every need.  Custom shows are a given, so the perfect package for your particular venue requirements and budget awaits you.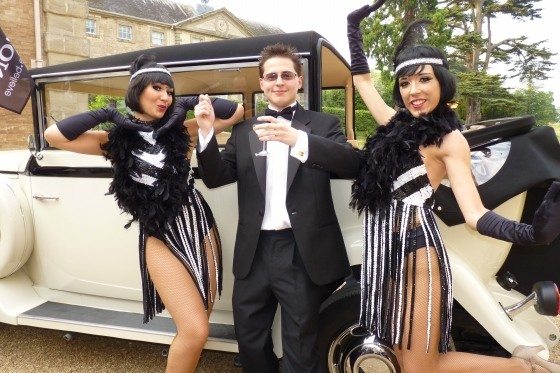 Either you're planning a wedding, a business party or a private event, with backing tracks or to live music, our sensational 1920s themed dancers with their glamorous costumes and their knees and ankles ready, stand at your disposal to offer you and your guests an extravagant performance and a night to remember.  Please feel free to contact us anytime and we can plan your next amazing event.
Check out our AMAZING DANCE ACTS below!