Zoom Magician
Performer profile – Keelan Leyser
Magic in Covid age  – Welcome the Zoom Magician
The arrival of the coronavirus pandemic has transformed life for millions of people and the traditional magic act has become impossible. With the venues and events at which Keelan, our Zoom Magician, performed being closed and cancelled our magician and mind reader has found a new way to wow audiences. Having been the world's leading digital magician the next step, becoming the world's leading online magician, was a logical one. Keelan now employs his love of technology not just in his act, but also in the delivery.
Anyone who has seen a magician will immediately recall key features of the show they saw, whether it's the grandeur of an elaborate stage show or the fascination of close-up magic, and wonder how a real-life magician can transform into a Zoom magician.
A Zoom magician like Keelan, though, keeps all the surprise, mystery and magic of a regular show, but simply performs it for you in the comfort of your own home. He also maintains the relationship and rapport with his audience that he had when performing live, adapting his stage presence and humour to create a spectacle that is just as memorable on Zoom as it is in real-life.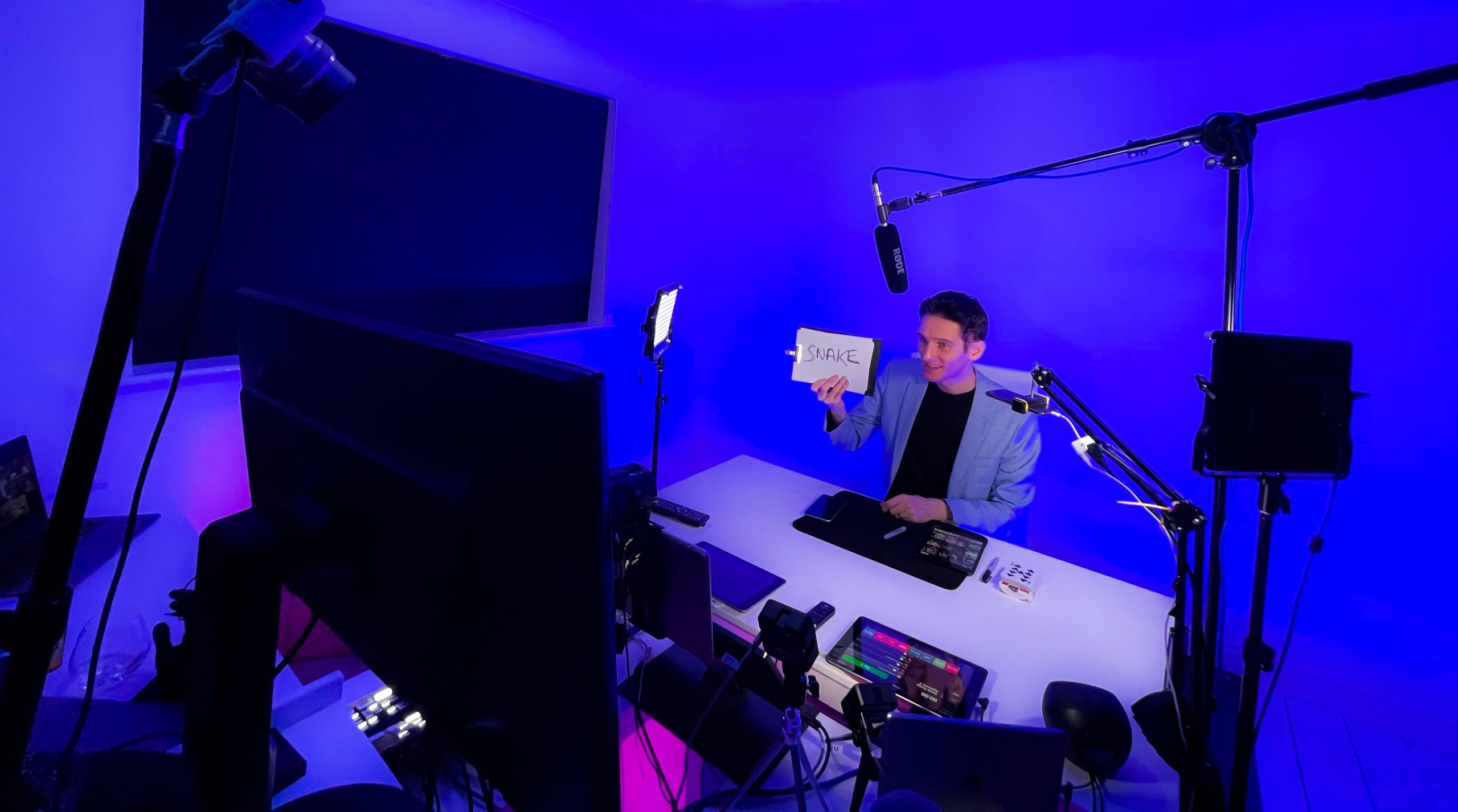 A fully interactive Online experience
It's important to note that this is not just watching a magician, as you might on TV or YouTube, but instead it's an online interactive experience, involving the audience in the same way they would be involved in a private or a stage show. And it can work in the same way as a magician worked in pre-Covid times, so whether it's an entertaining break during a conference to keep up the attendees' energy, an act during an evening fundraising event, or even something to spice up a birthday party or anniversary Keelan can make that virtual get-together something special and memorable.
Keelan performs his full range of magic and mentalism as an online magician on Zoom, with the virtual environment making it even more amazing.
A sleight-of-hand trick might be impressive when performed in an ordinary environment with all the surrounding distractions. Imagine how much more impressive it is when there are hundreds of pairs of eyes with nothing but a single camera angle.
Or imagine Keelan telling you the word you are thinking of when all he can see is a small video image, and you might be separated by hundreds or even thousands of miles.
It might be a virtual magician you are watching, but the magic being performed is still very real.
And unlike watching a TV show or YouTube video because the shows are interactive every show is unique. Keelan's show will react and respond to the audience, making it once-in-a-lifetime experience for everyone. Keelan will involve as many people as possible, too, even in a short show. This isn't an act that just invites one volunteer who is little more than a prop in a set-piece illusion, instead it's an online magician performing magic and mentalism on and with his audience. It's not uncommon for people afterwards to think that, somehow, everyone has been directly involved in the show in some way.
A Zoom MAgic show that fits your needs
Zoom Magic Shows can be tailored to fit your needs. The Zoom magician has a number of sets, but if you need something special then it's possible to have a bespoke show designed just for you and your requirements. So, whether it's something simple like fitting a precise time-slot, or a show focused on a special audience member or choosing magic or mentalism to specifically highlight a company or product anything is possible.
Keelan can also adapt to your technical requirements. He is frequently known as a Zoom magician, partly because Zoom has become such a popular video conferencing tool, but also because the service's features work incredibly well for virtual magic, but he can connect to your event using almost any platform. He's not just a Zoom magician if it fits your needs he can be a Microsoft Teams magician, or a Skype magician, or a Webex magician, or a magician for whatever platform you use.
Whatever your preferred video conferencing service, even if it's just Google Meet or Skype, the chances are that Keelan has already delivered a show on it.
How the Zoom Magic Show works
If you are looking for an online Zoom magician for your event the first step is to get in touch. This is not just to check availability — although as Keelan performs around the world, virtually, it's worth booking early — but also to discuss your requirements and develop exactly the right show for you.
As an online magician Keelan has performed at a full range of events, from intimate parties to huge corporate conferences. The audience size can range from four to 1,000 people, although you might want to have smaller audiences if you can, so you can maximise the proportion in each audience with whom Keelan can interact.
If you have a big event of over 1,000 people this is still possible. However, service and software limits mean these have to be webinar-style events. While these are still incredibly entertaining there is less ability for direct interaction between Keelan and the audience.
You can also discuss the length of the show. Typically, any where between 15-to-45-minute show is about the right length for an online magician, allowing enough time to amaze the audience — and get plenty of them involved — without Zoom-fatigue setting in! However, Keelan can work with you to make sure the show is exactly the right length for your needs. He can even host your conference, keeping participants entertained while he keeps the agenda moving along.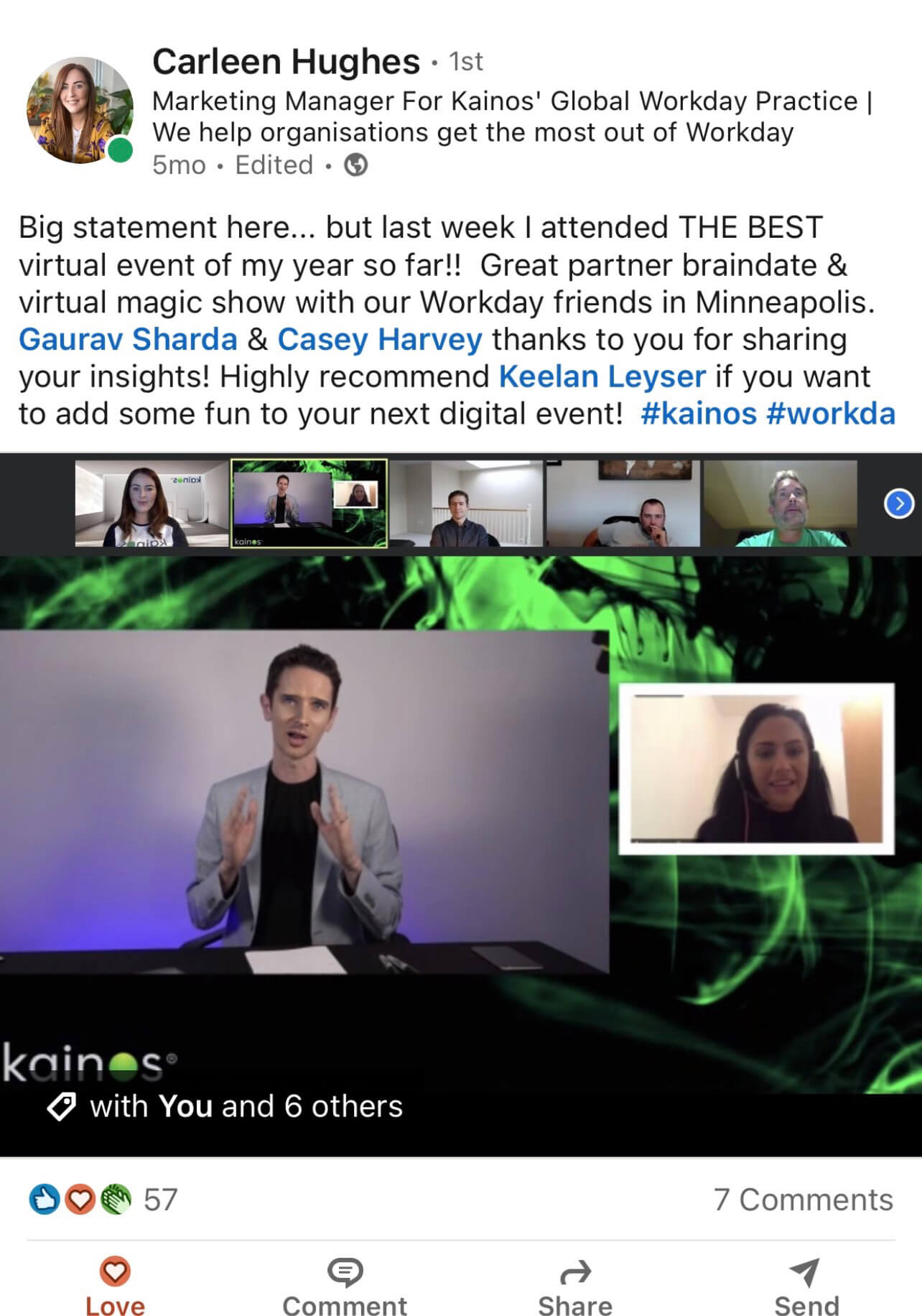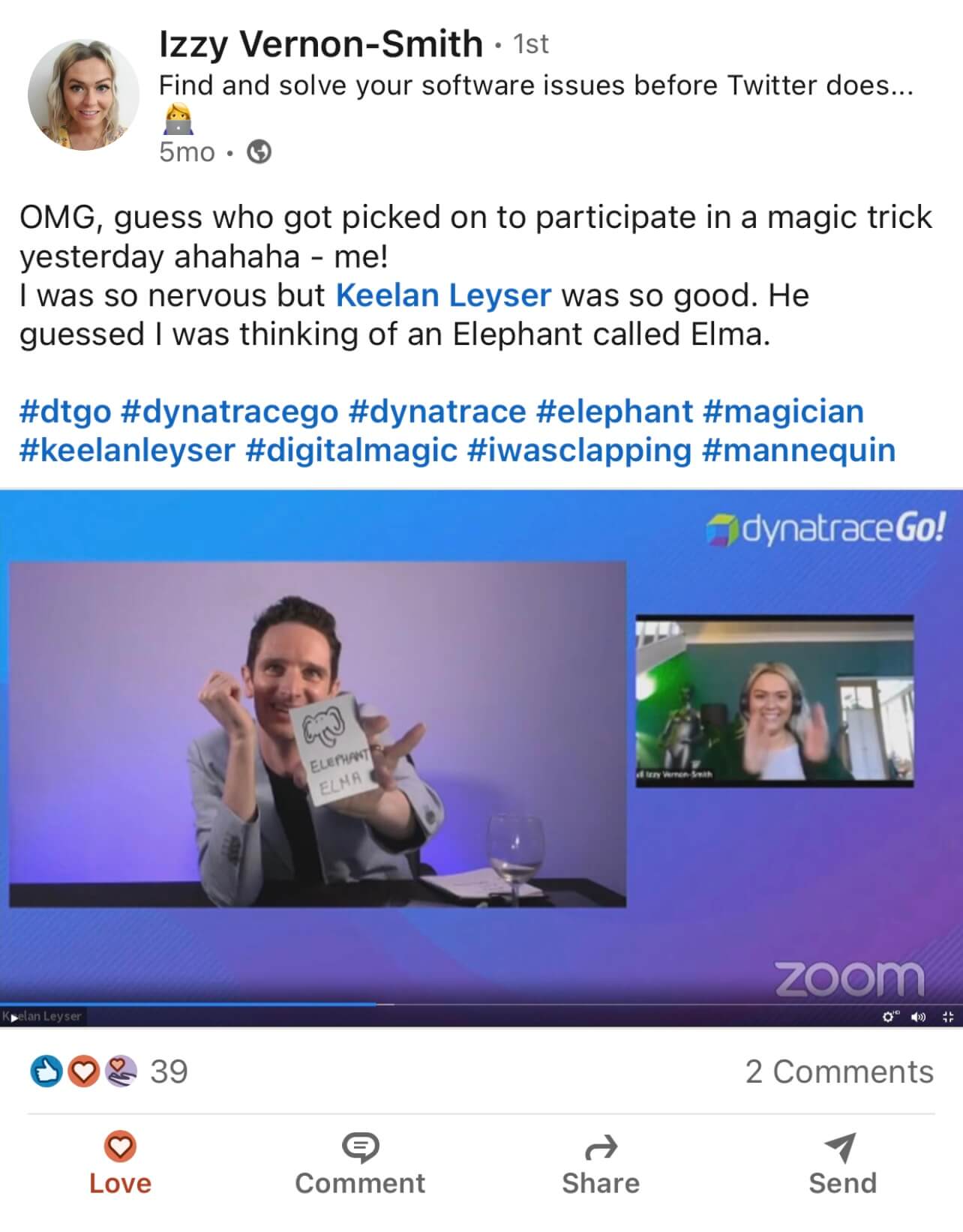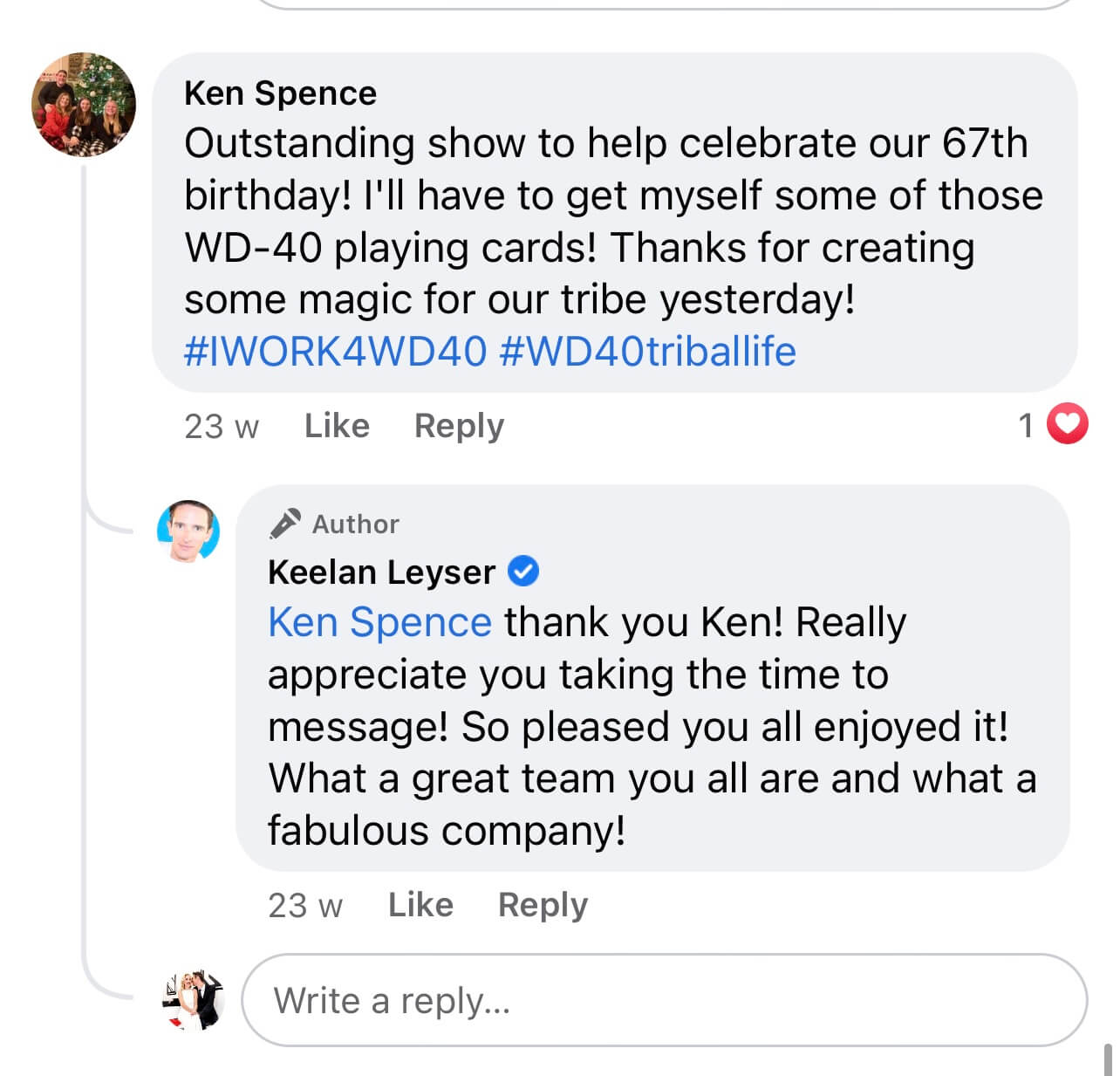 Hundreds of astounded Zoom participants
Keelan has already a wowed a huge selection of clients as a Zoom magician, with glowing testimonials from blue-chip companies like Intel, Salesforce and Fujitsu down to small groups and gatherings.
As you might expect, much of the feedback relates to the stunning shows provided like "fantastic, everyone loved it," or highlighting how Keelan delivered "a fantastic experience, wows the audience and keeps everyone thoroughly entertained." But there are benefits for those who book him: "I'm like a rock-star for being able to find such amazing entertainment for our team meeting!"
But in a world where the words 'you're on mute' have become a mantra it's also notable that the professionalism of Keelan's virtual magician studio shines through. One company noted that despite the difficulties of the online world, and especially performing magic, "Keelan's show proves that it can work virtually, even across time zones and languages."
As a Zoom magician, Keelan has called on his love of technology so his act is delivered from a fully equipped studio. With lighting to ensure you see every detail from the high-definition picture, and professional microphones, so you hear the rustle of the cards all sent via a dedicated high-speed link. You can be sure that a visual glitch or drop in sound won't get in the way of the magical spectacle of the Zoom magician.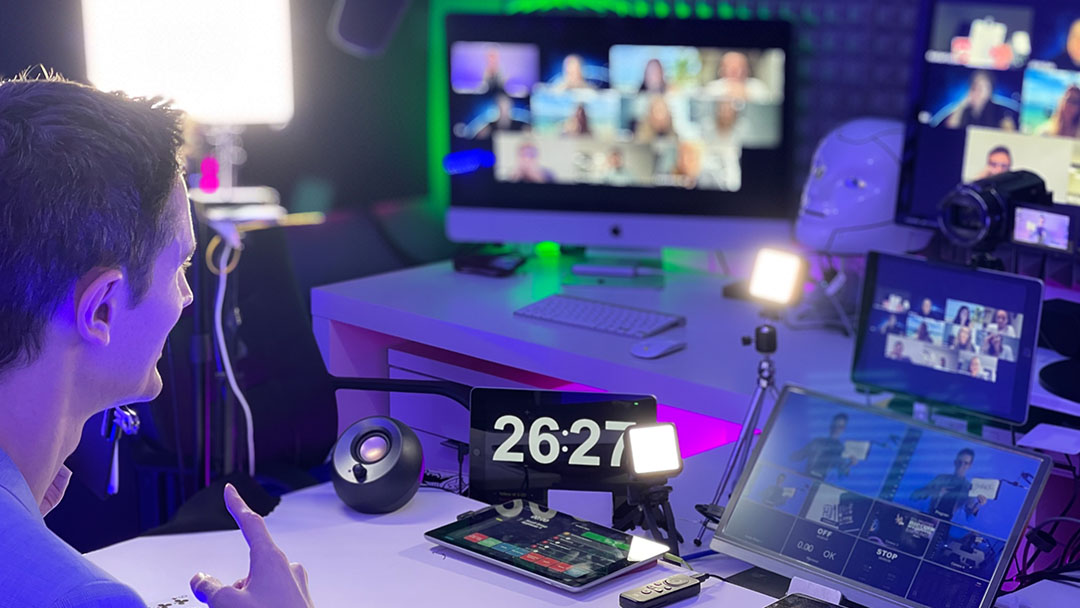 An Unforgettable Virtual Zoom Experience
Keelan's technical expertise combined with his experience as one of the world's leading magicians makes him the ideal virtual or Zoom magician. His ability to develop a rapport with his audience, sprinkle in some humour and then wow everyone with spectacular magic works just as well on Zoom as it does in real-life.
Whatever the event you can guarantee a spectacle that no-one will forget, and they will be telling other people about in every Zoom chat they have for days afterwards.
Enquire about our Zoom Magician
About Zoom Magician Keelan Leyser – How the Zoom Magic Show Started.
Keelan Leyser had established himself as a cutting-edge digital magician long before the Covid-19 pandemic meant a radical change in the way he performed. But even before anyone had heard of Covid-19 he had laid the groundwork that has made him one of the world's top Zoom magicians.
Deciding he wanted to be a magician at the age of 4, Keelan honed his skills by impressing school friends before making his first TV appearance advertising a Waddington's magic set. This was soon followed by a prime-time appearance on ITV's Surprise Surprise seen by 13 million people when he was just 13 years old.
In the years that followed Keelan has had hundreds of TV appearances, toured the world with his shows, performed for world leaders, and was named the British Magic Grand Prix champion at the British Magic Championships; an incredibly prestigious title awarded by his peers in the magic industry. Having a career that has encompassed all the familiar and traditional aspects of magic he has, since 2000, been using his love for visual effects and technology to become a digital magician.
Keelan even coded his own apps for iOS, Android and Windows, making his illusions unique and giving him the ability to offer bespoke shows that no-one using out-of-the-box apps could emulate (and gained him such a reputation that Microsoft and Acer hired him to help promote their tablet launches). Whether performing close-up magic to a few people or providing the after-dinner entertainment in a stage show for hundreds Keelan became the world's leading digital magician with his fusion of technology, humour and magic creating an unforgettable show.